Hajim School Highlights 2021
December 1, 2021
Nicholas Achuthan'23 arrived at the University of Rochester knowing he wanted to major in a STEM or engineering discipline, but not sure which one. "I didn't have the slightest idea," he says.
---
November 7, 2021
As the James Webb Space Telescope heads toward its launch date, dozens of Rochester faculty and alumni await the results of their contributions to the project, when the telescope begins sending images from 13.5 billion years ago.
---
November 4, 2021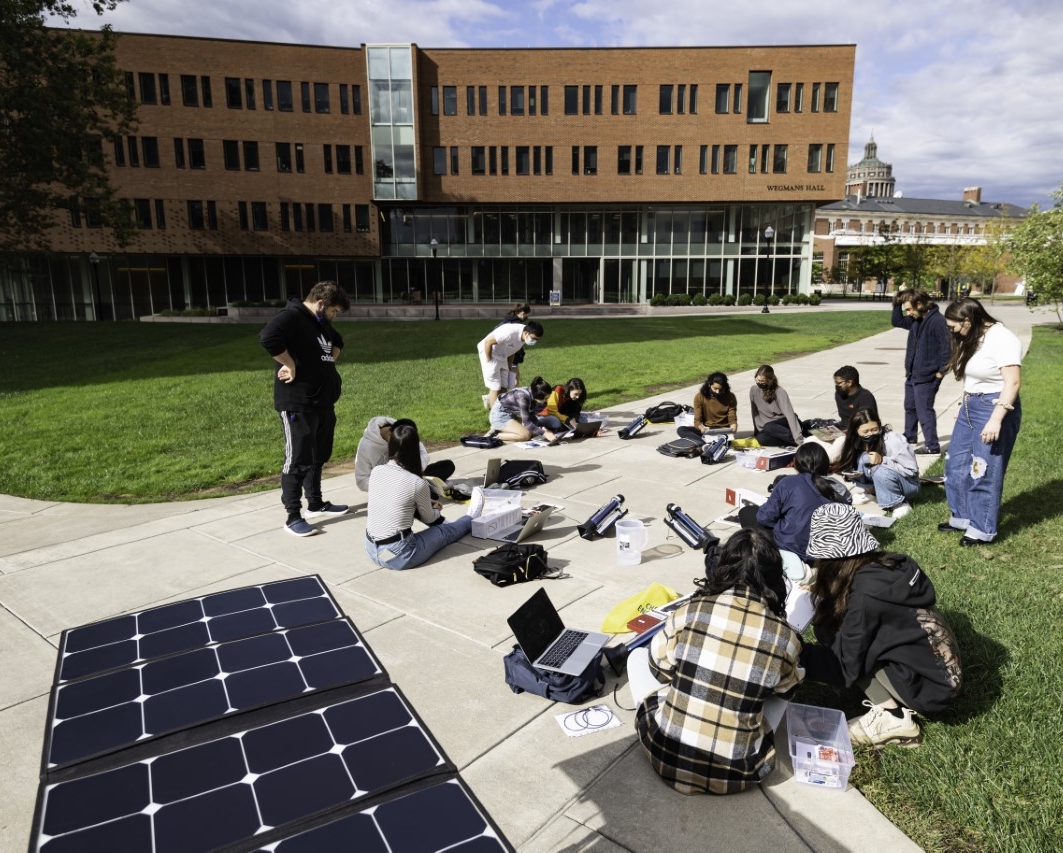 I am so happy we can all be back together again this semester—in person!
---
November 1, 2021
The Hajim School is proud to recognize these recent achievements of its faculty members, staff, students, and alumni. They exemplify the University of Rochester motto: Meliora—ever better!
---
October 27, 2021
Elon Musk, the billionaire entrepreneur who recently launched the first all-civilian mission into space, has galvanized a collaboration of Hajim School engineering students to address a pressing issue on Earth: climate change.
---
October 22, 2021
Alvin Lomibao '09 '13 MS, the Hajim School's new assistant dean for undergraduate studies, says he is fortunate to be "picking up the baton" from such an able predecessor.  
---
October 11, 2021
Three seniors at the top of their class in the Hajim School of Engineering and Applied Sciences have "gone above and beyond" to excel in the humanities as well, says academic advisor Hana Goldstein.
---
October 8, 2021
Muhammed El-Sayed '22 says he tends to "jump in headfirst before thinking."
---
September 27, 2021
Tochukwu Toby Iyke-Nzeocha '24 was warned that students just completing their first year don't often get accepted by REU (research experience for undergraduates) summer programs.
---
September 24, 2021
When we look at an object with our eyes, or with a camera, we can automatically gather enough pixels of light at visible wavelengths to have a clear image of what we see.
---
August 18, 2021
Kendra Watson '22 is happiest when she's busy. Very busy.
---
July 20, 2021
Tracey Moyston '22 knew she wanted to pursue a career in STEM.
---
June 30, 2021
It wasn't easy being a 10-year-old growing up in an orphanage in Serbia, says Hristijan Stojkovic '22.
---
May 20, 2021
Ongjen 'Ogi' Bosic's dream job is to one day design a Formula One race car.
---
May 14, 2021
Congratulations to this year's recipients of Hajim School awards for outstanding achievement.
---
April 13, 2021
"I truly believe that college is what you make of it," says Claire Wilson '21 of chemical engineering.
---
April 2, 2021
The recording studio at Gavett Hall resonates to the sound of a live performance by Bellwether Breaks.
---
March 28, 2021
University of Rochester researchers who demonstrated superconducting materials at room temperatures last fall, now report a new technique in the quest to also create the materials at lower pressures.
---
March 8, 2021
One of the biggest benefits of attending the University of Rochester for Dominick Harasimiuk '21 has been the opportunity to meet so many interesting, supportive, and caring people.  
---
January 12, 2021
Tram Nguyen '22 doesn't do anything halfway. 
---
January 7, 2021
What motivates and inspires outstanding University of Rochester undergraduates like Francis Pellegrino '22 to be entrepreneurs—to start their own companies even before they graduate?