February 26, 2014
First optics student admitted to MD-PhD program at UofR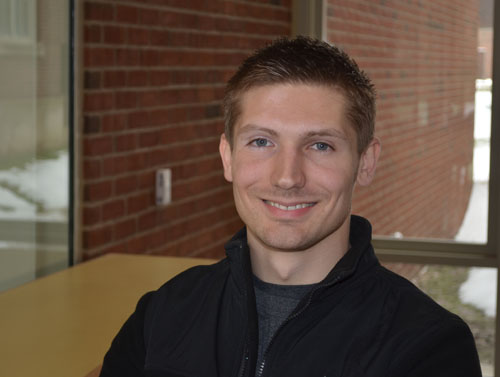 Daniel Savage of The Institute of Optics has been accepted by the UR School of Medicine and Dentistry into the Medical Scientist Training Program. This NIH-sponsored program trains outstanding students to undertake careers in biomedical research and academic medicine through an integrated program of graduate training in the biomedical sciences and clinical training. Graduates receive the combined M.D.-Ph.D. degree, and many of them pursue careers in basic biomedical or clinical research. Daniel would be the first student in the Institute's history to earn a Ph.D. and M.D from the University of Rochester. That will be quite an achievement!
His co-advisors, by the way, are Wayne Knox, Professor of Optics and of Physics, and Krystel Huxlin, Professor of Ophthalmology, of Neurobiology and Anatomy, and of Brain and Cognitive Sciences. Both are members of the Center for Visual Science. For the last three years, Daniel was supported by a graduate student fellowship on the CVS training grant funded by the National Eye Institute.
To read Bob Marcotte's interview with Dan, click here.