2017 News Archive
December 14, 2017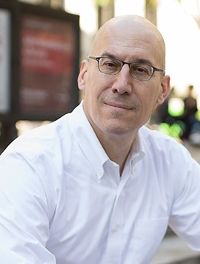 Optics alumnus Alex Gaeta, a graduate of the Institute of Optics ('83, '85M, '91PhD), has major achievements not only in optics, but also as a former tennis player on the University of Rochester's NCAA Division III tennis team. Gaeta, a former graduate student of Professor Robert Boyd of the Institute of Optics is now the David M. Rickey Professor of Applied Physics and of Materials Science at Columbia University.
---
November 20, 2017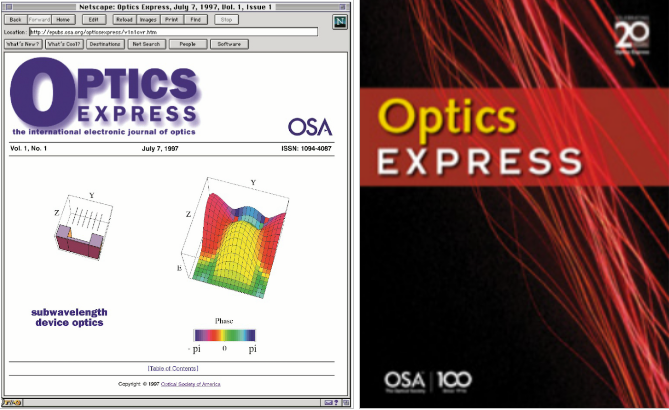 ---
November 7, 2017
---
October 30, 2017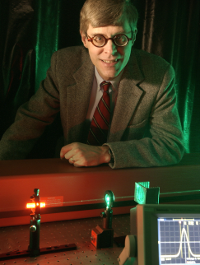 Professor Robert Boyd of the Institute of Optics is co-author of an article, along with Kosmas L. Tsakmakidis (UC Berkeley), Ortwin Hess (Imperial College London), and Xiang Zhang (UC Berkeley), titled "Ultraslow Waves on the Nanoscale," in the October 20th issue of Science. The authors conclude that "The broadband, ultraslow-wave regime in subdiffraction-limited nanostructures is essentially a new regime for nanophotonics, acoustics, and 2D materials, as in all three fields we have been accustomed to using fast propagating waves for diverse operations and devices.  Many surprises are waiting to be revealed and further exciting applications to emerge in this new regime." You can read the article here.
---
October 23, 2017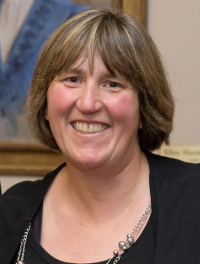 Julie Bentley, associate professor of optics, was co-chair of Optifab 2017, North America's largest optical manufacturing conference and exhibition, with 2,000 attendees and 186 exhibiting companies. The conference was held in Rochester October 16-19.
---
October 23, 2017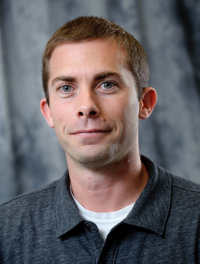 Nick Vamivakas is the latest member of The Institute of Optics to be named a fellow of the Optical Society (OSA).
---
October 17, 2017
Professor Thomas G. Brown was one of three 2017 winners of the Goergen Teaching Awards.  The Goergen Awards are named for University Trustee and Board Chair Emeritus Robert Goergen '60 and his wife, Pamela, who created an endowed fund in 1997 to establish and provide ongoing support for the awards. In 2010, the Goergen Awards program was redesigned to make larger awards focused exclusively on excellence in undergraduate teaching by individual faculty members.
---
October 10, 2017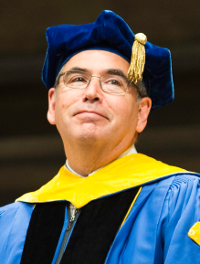 In 2020, Institute alum Stephen Fantone '79 (PhD) will become the 23rd president of the Optical Society (OSA) who has ties to the University of Rochester.
This includes 21 alumni and current or former faculty members of the Institute of Optics, representing about a quarter of OSA's 85 presidents since the organization was formed in 1916.
OSA founders were part of the advisory committee that led to the creation of the Institute of Optics as the nation's first academic program in optics. The Institute has granted nearly half of all optics degrees in the United States, and many of its faculty and alumni have played key leadership roles in OSA.
"The past presidents of the OSA read like a who's who of optics," says Scott Carney, director of the Institute.
Fantone, president and founder of Optikos Corporation, was recently elected by the membership to be OSA vice president for 2018, meaning he will serve as president elect in 2019 and president in 2020. Fantone, a recognized expert in optical engineering and optical product development, has been awarded more than 65 patents. He is a fellow of OSA, which he has served in several leadership roles, and is a senior lecturer in the mechanical engineering department at MIT.
    He is recipient of the Hajim School Distinguished Alumnus Award (2009) and the University of Rochester Distinguished Scholar Award (2015).  Read more here.

Other OSA presidents with ties to the Institute include:

2013: Donna Strickland '89 (PhD), now associate professor at the University of Waterloo.
2011: J. Christopher Dainty, an associate professor from 1978 to 1984 at the Institute, past chair of applied physics at the National University of Ireland, Galway.
2010: James C. Wyant '68 (MS), '69 (PhD), Founding dean of the College of Optical Sciences at University of Arizona, and recipient of the Hajim School Distinguished Alumni Award.
2007: Joseph H. Eberly, Andrew Carnegie Professor of Physics and professor of optics, founding editor-in-chief of Optics Express.
2005: Susan Houde-Walter '83 (MS), '87 (PhD), faculty member from 1987 to 2005, reaching rank of full professor; now co-founder, CEO, and chair of the board, LaserMax Inc.
2003: G. Michael Morris, scientist from 1979 to 1982 and professor 1982-2001, currently CEO and co-founder of RPC Photonics Inc.
1996: Duncan T. Moore '74 (PhD), the Rudolf and Hilda Kingslake Professor of Optical Engineering, vice provost for entrepreneurship, and former director of the Institute.
1978: Emil Wolf, Wilson Professor of Optical Physics.
1973: Robert E. Hopkins '39 (MS) '45 (PhD), "father of optical engineering," former professor and director of the Institute and co-founder of Tropel Inc.
1970: W. Lewis Hyde, faculty member from 1963 to 1968, later provost of New York University.
1962: David L. MacAdam, professor from 1975 to 1995.
1951-52: Brian O'Brien, professor, 1930 to 1955, and director, 1934-1954.
1947-48: Rudolf Kingslake, faculty member 1929-1937.



---
October 5, 2017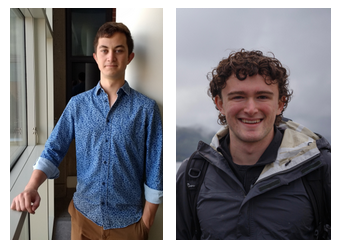 PhD students Nicholas Kochan (left) and Maximillian Bruggeman (right) of the Institute of Optics received individual awards for their entries in the 2017 Robert S. Hilbert Memorial Optical Design Competition.  Their projects were part of the design class taught by Professor Julie Bentley.  Now in its 18th year, the annual competition is open to students in North America working toward a bachelor's, master's or doctoral degree who use Synopsys CODE V or LightTools software to perform optical design and engineering research.
---
September 11, 2017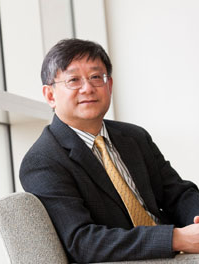 Xi-Cheng Zhang and his team at the Institute of Optics, Capital Normal University in China and ITMO University in Russia have achieved something that was, until now, thought impossible—producing terahertz (THz) light waves using liquid water.  THz waves, also known as sub-millimeter waves, are used in astronomy, communications, and even to see through objects without the use of ionizing x-ray radiation.
---
September 10, 2017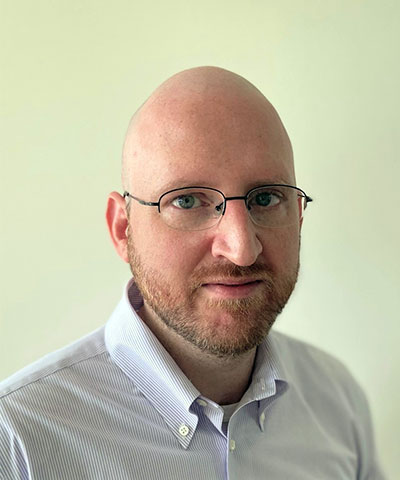 William Renninger has joined The Institute of Optics as an assistant professor after serving as an associate research scientist and postdoctoral associate in the Department of Applied Physics at Yale University.  William, who received his PhD at Cornell University in 2012, studies experimental nonlinear optics to explore the ways in which light and matter interact, as well as to identify and develop successful commercialized technologies.  Read more about Professor Renninger's research here.
---
August 8, 2017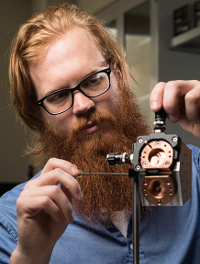 In a recent paper in Light: Science & Applications, University of Rochester researchers Jannick Rolland and Jacob Reimers describe an optical device with potential applications ranging from improved satellite and diagnostic imagery to more precisely matching the paint color on a living room wall.
---
August 1, 2017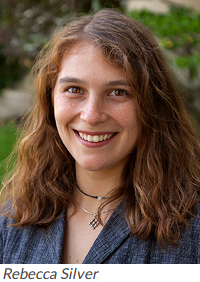 It was a pivotal moment for Michelle Relin. Then a junior at The Institute of Optics, she "snuck out of a lab" to hear a presentation by recruiters from Edmund Optics during a fall meeting of the Industrial Associates (IA) – nearly 40 leading optics companies that partner with the Institute.
---
July 19, 2017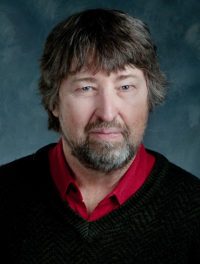 The late Kevin Thompson, who served as a visiting scientist at The Institute of Optics, has been honored by The Optical Society, which has named a new award in his honor.  Kevin was a leading expert in understanding the aberration fields of a new class of nonsymmetric optical systems using freeform optical surfaces.  The Kevin P. Thompson Optical Design Innovator Award will recognize contributions to optical engineering, lens design, or metrology at an early career stage.  Learn more about the award and OSA's fundraising campaign. 
---
July 19, 2017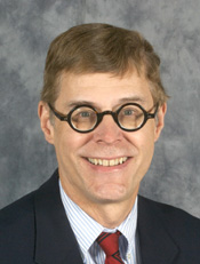 A new publication in Science by a team including The Institute's Prof. Robert Boyd uses electromagnetic theory to predict a means to surpass a bandwidth limit for "high-Q systems."  The "quality," or "Q," of a system represents how easily the system can absorb energy at its natural resonant frequency.  According to the article, higher-Q systems have narrower bandwidth--a narrower range of frequency over which they can absorb energy--but this range may be broader in "asymmetric systems."  The abstract (and full text for AAAS members) is here.
---
July 18, 2017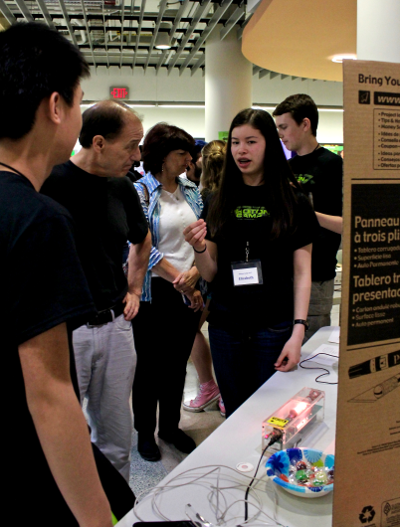 Local high school students had a fun and educational week at the 2017 Photon Camp.  Photon Camp is a free, one-week program where rising high school juniors and seniors can explore the growing field of optics and optical engineering.  Students spend the week attending faculty lectures, visiting local optics industry sites, and working in the Institute of Optics laboratories.
---
June 27, 2017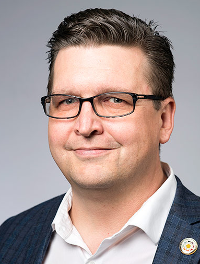 On July 1st, Scott Carney, a professor of electrical and computer engineering at the University of Illinois at Urbana-Champaign, will take over as the 11th director of The Institute of Optics.  (Including interims, a total of 15 have served.)  The outgoing director, Xi-Cheng Zhang, will remain on the faculty as the M. Parker Givens Professor of Optics.  Carney earned his PhD in physics at Rochester studying with Emil Wolf, the Wilson Professor of Optical Physics and Professor of Optics.
---
June 1, 2017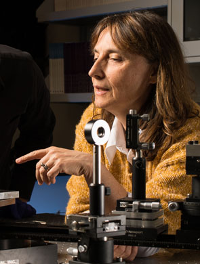 Passionate. Forceful. Creative. Effective.

These are the adjectives that help explain why Jannick Rolland is the 2017 recipient of the Edmund A. Hajim Outstanding Faculty Award.

Rolland, the Brian J. Thompson Professor of Optical Engineering, joined the Institute of Optics in 2009.

Since then, she has:

• Helped shape the Robert E. Hopkins Center for Optical Engineering, which she has directed since 2012. It is now a shared instrumentation facility that promotes collaboration across departments, and recruits diverse undergraduates from optics and mechanical and chemical engineering into its research.

• Spearheaded the 2013 creation of the Center for Freeform Optics (CeFO), which she directs and which now has 16 corporate and research laboratory members. CeFO, a joint venture with UNC-Charlotte, brings the universities and companies together at the precompetitive research stage of a game-changing new technology. Freeform optics uses lenses and mirrors in a range of shapes to deliver increasingly compact, lightweight and easily targetable optical devices.

• Co-founded and is CTO of LighTopTech, which she launched in 2013 with Cristina Canavesi, based on high definition volumetric microscopy Canavesi helped develop in the Rolland lab. A liquid lens refocuses at different depths inside samples to obtain high-resolution volumetric images of materials. This allows medical professionals to rapidly and noninvasively image subcellular structures beneath the surface of the skin or within the human eye. It can also capture details inside materials to monitor the quality of manufacturing processes.

• "Produced some of the very best students," says Xi-Cheng Zhang, director of the Institute of Optics and M. Parker Givens Professor of Optics. For example, Kyle Fuerschbach, one of her graduate students, was awarded the 2014 outstanding dissertation award in the Hajim School for pioneering work in freeform optics.

"The Hajim Outstanding Faculty Award is a perfect recognition for Prof. Rolland's contributions," Zhang says.
---
May 18, 2017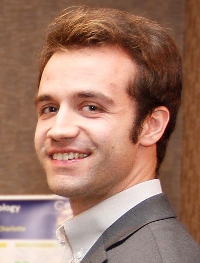 Congratulations to University of Rochester PhD student Jonathan Papa, recipient of the 2017 Michael Kidger Memorial Scholarship Award. This prestigious award recognizes Papa's outstanding achievement in optical design. Papa is currently in his third year as a, now qualified, PhD student at The Institute of Optics, School of Engineering and Applied Sciences under the tutelage of Prof. Jannick Rolland, Brian J. Thompson Professor of Optical Engineering.
---
May 3, 2017
Justin Schultz, currently a postdoctoral researcher at the Institute, was awarded the 2017 Outstanding Dissertation Award for Engineering at the University of Rochester.  In addition to the recognition of an outstanding dissertation is a monetary award of $1000.  Schultz was advised by Professor Nicholas Bigelow of the Department of Physics and Astronomy and the Institute of Optics.  His dissertation research was in the field of Bose-Einstein condensates (BECs).
---
April 26, 2017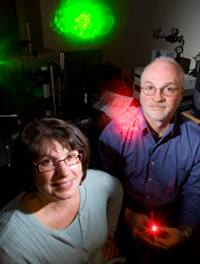 A new report from the Science Coalition, "American-Made Innovation Sparking Economic Growth," highlights one of the many ways investments in basic scientific research benefits the overall economy: the formation of new companies.   One of the startups featured in the report, Clerio Vision, was founded in 2014 by Researchers Wayne Knox (right) and Jon Ellis with the Institute of Optics, and Krystel Huxlin (left) with the Flaum Eye Institute in the Medical Center.
---
April 17, 2017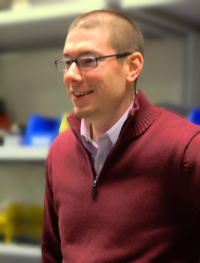 Professor Jonathan Ellis of the Department of Mechanical Engineering, the Institute of Optics,  and the Center for Freeform Optics was recently awarded an NSF CAREER award in the amount of $500,000. The award is part of the NSF's Faculty Early Career Development Program. "The Faculty Early Career Development (CAREER) Program is a Foundation-wide activity that offers the National Science Foundation's most prestigious awards in support of early-career faculty who have the potential to serve as academic role models in research and education and to lead advances in the mission of their department or organization.1"  Prof. Ellis's proposal was on "Breaking the freeform optics metrology barrier with synthetic wavelength interferometry." The project will empower optical designers and manufacturers with metrology methodologies that can measure advanced freeform optics.
---
March 30, 2017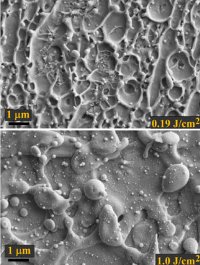 Institute of Optics researchers Chunlei Guo, Anatoliy Vorobyev, and Ranran Fang have developed a technique to create video images of the changes on a metal surface as they are bombarded by femtosecond laser pulses.
---
January 3, 2017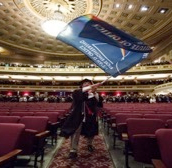 2016 has been a year of achievement with research awards, fellowships, special workshops, and even sporting events.  As we begin 2017 with excitement, the Institute Director, Xi-Cheng Zhang, reflects on the many exciting events of 2016: