Student Profiles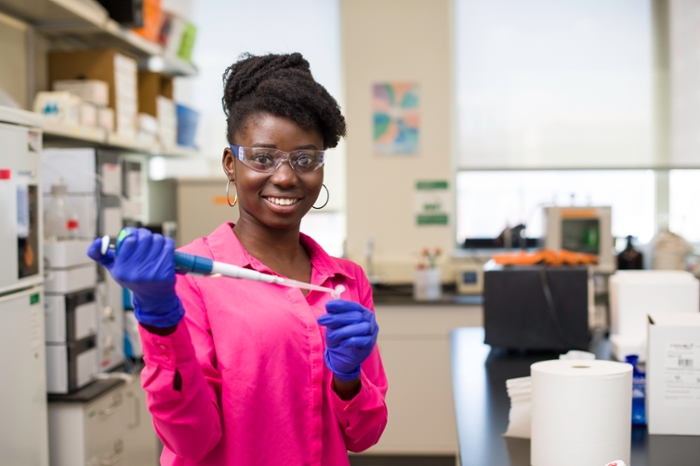 Marian Ackun-Farmmer
Why did you pick the University of Rochester?
I chose the university because of the different research opportunities available in the BME department. I really like that the research spanned many disciplines within BME. I liked that the work being done also appeared to be multidisciplinary. Before I made my decision to come to the school, I also spoke with a few faculty members that were enthusiastic about their work and about training graduate students. When I came for my visit, I was able to see how close the medical school was to Georgen and I was able to speak to students in different labs. I like the fact that there was more than one person I wanted to work with at the university and that the students I spoke to did not seem concerned about funding.
What lab did you choose and why?
I chose the Benoit lab because my interests overlapped very well with the work being conducted in the lab. In addition, I really liked the group dynamic in the lab and outside the lab. Describe your research project and why it's important. 
Describe your research project
My current project involves the use of a polymer based nanoparticle system for targeted drug delivery to high remodeling areas of bone. 
What have you enjoyed most about your training so far? 
I have enjoyed the discovery part of my training. I have learned a lot of techniques and have been given the autonomy to complete projects that are interesting to me.  
What are your plans for the future? Where would you like to be in 5-10 years? 
I hope to work in academia. Ideally I would to own my own lab and mentor graduate students as well as undergraduates. I hope to get a post-doc position that will challenge me and build me up to be an investigator.
When should you start Networking for academic opportunities? How did you start?
You should always be networking. Never let anyone tell you that its too early. I started pursuing research opportunities during my freshman year in undergrad because I honestly wasn't sure what research was. I wanted to learn more about it, just to see if it was an experience I would enjoy and something that I would want to continue pursuing. I applied to SURF programs as a start and networked with investigators at the National Institute of Standards and Technology (NIST) my freshman year and continued with networking within investigators in my internships at my undergraduate institutions.