Student Profiles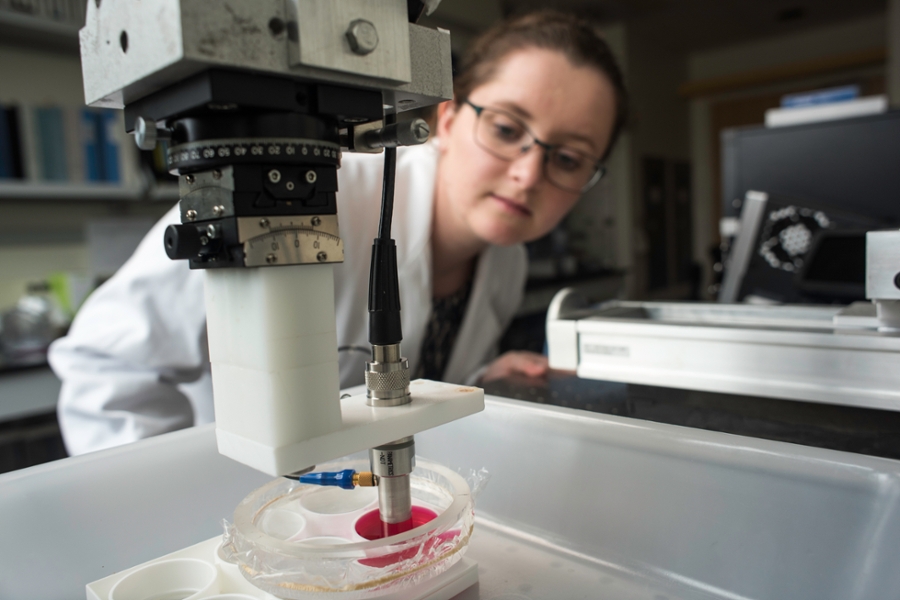 Sarah Wayson
Hometown: Owego, NY
Anticipated Graduation Year: 2020
Degree: PhD
Program: Biomedical Engineering
Research Group:Dalecki Lab
Research Group:Hocking Lab
Why did you pick the University of Rochester?
The relationship between the Department of Biomedical Engineering and the University of Rochester Medical Center allows me to explore a wide variety of research areas in engineering and medicine. The research environment is friendly and encourages collaborations.
Why did you choose biomedical engineering?
Biomedical engineering allows me to train at the intersection of multiple scientific fields encompassing cell and tissue engineering, regenerative medicine, cell biology, physiology, acoustics, medical imaging, and biomechanics. It provides me with a unique combination of skill sets to identify unmet clinical needs and innovate technological solutions in engineering and medicine.
What lab did you choose and why?
I am co-advised by by Dr. Dalecki and Dr. Hocking. The focus of our research is to develop new therapeutic and diagnostic applications of ultrasound in medicine. The lab environment is highly interdisciplinary and I enjoy working with and learning from my fellow lab members.
What is your research project?
The objective of my research project is to use high frequency ultrasound imaging to non-invasively detect changes in tissue structure associated with the onset of pressure ulcer formation. 
What have you enjoyed most about your training so far? 
I am enjoying training in a multidisciplinary research environment, and working with my fellow colleagues. 

What are your plans for the future? Where would you like to be in 5-10 years? 
My long term vision for my scientific career is to receive a doctorate degree in biomedical engineering, followed by a doctorate degree in physical therapy, in order to facilitate the collaboration between engineering research and rehabilitation.
When should you start Networking for academic opportunities? How did you start?
I recommend starting networking as soon as possible by talking to your fellow classmates, teaching assistants, and professors. As a sophomore, I started working as a lab manager for Dr. McGrath. Later, I gained my first hands-on research experience working as an undergraduate research assistant in the McGrath Lab.