HOME MS Program
Earn a master of science in optics at home! The Hybrid Optics Master's Education (HOME) program offers the world-renowned Institute of Optics MS, taking advantage of the best remote-learning practice and a special in person component crafted to meet the needs of busy professionals.
The HOME curriculum includes the same core curriculum as our regular MS with an intensive three-week in-person version of our hands-on MS lab class. The combination of online coursework and in-person practical training maintains the rigor of our traditional MS degree while maximizing flexibility. The program will accommodate the busy schedules of working professionals and remote learners from around the world.
Our program allows students to:
HOME is geared for students with a strong STEM foundation who want to work or are working in the vibrant and growing optics industry.
Overview of Optics HOME Program
Duration
Full time
One year
Part time
Two years
One course/semester
Four years
Time Commitment
Full time
40 hours/week
Part time
10-30 hours/week
One course/semester
10-12 hours/week
Degree
Masters of Science in Optics
Platform
Mostly online
Topics
Optics and Optical Engineering
Flexible Schedule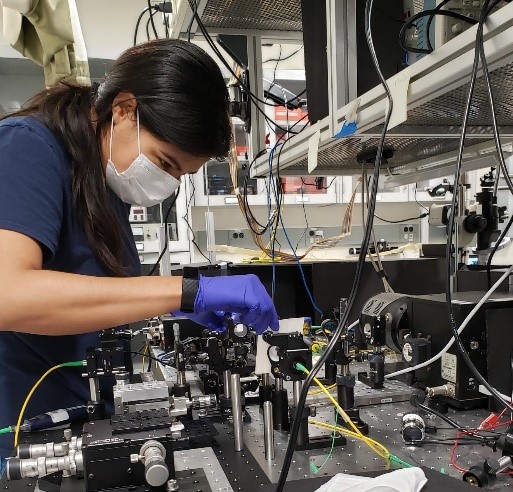 HOME courses are designed with the working learner in mind. Every course is instructed in a live format and is recorded, giving you the option to participate independently or join in real time. HOME courses offer one-on-one interactions with instructors, teaching assistants, and student support services.
Curriculum
Students in the HOME program are required to take a total of seven lecture courses and three credits of an in-person MS laboratory course.
The seven lecture courses are broken down into three required core courses, and four elective courses where one elective course must have quantum optics content.
Required core courses:
OPT 423: Detection of Optical Radiation (spring)
OPT 443: Foundations of Modern Optical Systems (fall)
OPT 463: Wave Optics and Imaging (fall)
Example of elective courses (not an exhaustive list):
OPT 422: Color Technology (spring)
OPT 428: Optical Communications (fall, quantum optics content)
OPT 444: Lens Design (spring)
OPT 446: Optical Interference Coatings (fall)
Three credits of in-person laboratory:
OPT 454: MS HOME Laboratory (summer, 3 credits)
OR
OPT 401, 402, 403: MS HOME Labs 1, 2, and 3 (spring, summer, 1 credit each)
Courses
Typical semester course offerings for the HOME program are listed below.
Typically offered in fall semesters:
OPT 443 Foundations of Modern Optical Systems
OPT 446 Optical Interference Coatings
OPT 461 Fourier Optics
OPT 463 Wave Optics and Imaging
OPT 466 Ultrafast Optics and Laser Fundamentals
OPT 467 Nonlinear Optics
OPT 468 Integrated Photonics
OPT 544 Advanced Lens Design
Typically offered in spring semesters:
OPT 422 Color Technology
OPT 423 Detection of Optical Radiation
OPT 444 Lens Design
OPT 465 Principles of Lasers
Typically offered in summer:
OPT 401 HOME Lab Part I
OPT 402 HOME Lab Part II
OPT 403 HOME Lab Part III
OPT 454 HOME Lab (full-version)
Visit our HOME courses page to see a list of the courses that will be offered in the upcoming semester, as well as information as to which courses will be offered online, in-person, or in a hybrid format.
Tuition and Financial Aid
The HOME program is a Hajim School graduate program and charges tuition at the Hajim graduate rate. You can view current tuition and fee schedules on the Bursar's Office website.
Applicants to the Institute of Optics are automatically considered for tuition discounts and fellowships based on their application. No separate application or request process is needed.
Financial award package determination relies heavily on the statement of purpose and letters of reference. Improving your application to the program will also improve your financial award prospects.
Applying
Applications for the HOME program are accepted September 15 through July 1.
We are currently accepting applications for a program start date of January 11, 2022, or later. Applications for a program start in spring 2023 are due December 1, 2022. Applications for a program start in fall 2023 are due July 1, 2023.
To apply to the HOME program, apply to the optics MS program. You will be able to select the HOME program within the optics MS application, as well as select your desired entry term (spring or fall). If you encounter any difficulties, email the graduate program coordinator for assistance.
For details on the application, please see the graduate applying page.