The Industrial Associates (IA) Program
IA Home > Student Recruiting
Student Recruiting
One of the most valuable benefits of IA Membership is the priority access to students. Member companies are able to gauge individual talent by interfacing directly with students, be it through ad hoc campus visits or Bi-Annual IA Meeting networking opportunities, poster sessions, and scheduled interviews. Member companies can also post their vacancies on our electronic Job Board for students and alumni to view.
The online resume database has been discontinued. IA members may contact Dustin Newman for access to student resumes.
---
NEWS & EVENTS
---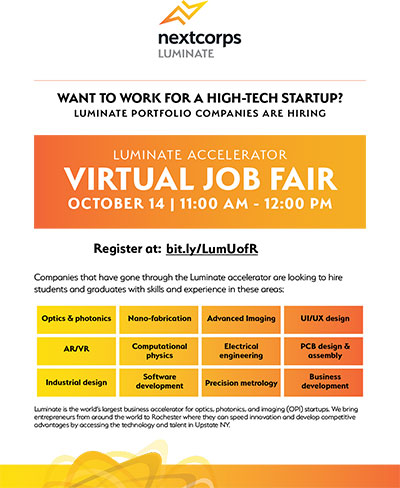 Luminate Accelerator Virtual Job Fair
Wednesday, October 14, 2020
11 a.m.-noon EDT
Want to work for a high-tech startup? Luminate portfolio companies are hiring.
Luminate is the world's largest business accelerator for optics, photonics, and imaging (OPI) startups. We bring entrepreneurs from around the world to Rochester where they can speed innovation and develop competitive advantages by accessing the technology and talent in Upstate NY.
---
Campus Talk by Sunny Optical Technology
Thursday, October 15, 2020
7-8 p.m. EDT
Join us to gain a comprehensive understanding of Sunny Optical Technology and hear about their campus recruitment efforts!
Learn More and Register
(Safari, Chrome, Firefox, Microsoft Edge, or Internet Explorer V11 recommended)
---
Wednesday, 28 October 2020: John Dudley, Science Communication for Early Career
Thursday, 19 November, 2020: Wendy Ingram, Mental Health Discussion
Thursday, 21 January, 2021: Christine Haas, Communicating with Confidence
---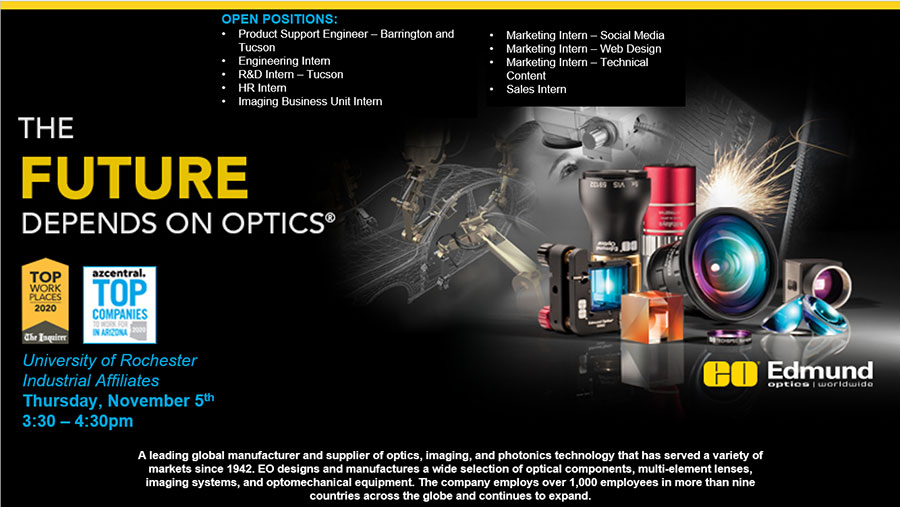 Edmund Optics Information Session
Thursday, November 5, 2020
3:30–4:30 p.m. EST
Edmund Optics (EO) has been a leading global manufacturer and supplier of optics, imaging, and photonics technology that has served a variety of markets since 1942. EO designs and manufactures a wide selection of optical components, multi-element lenses, imaging systems, and optomechanical equipment. The company employs over 1,000 people in more than nine countries across the globe and continues to expand.
Come join us to learn about Edmund Optics, meet with recruiters and learn about opportunities for you!
Open positions include:
Product Support Engineer
Barrington and Tucson Engineering Intern R&D Intern
Tucson HR Intern Imaging Business Unit Intern Marketing Intern
Social Media Marketing Intern
Web Design Marketing Intern
Technical Content Sales Intern
Learn More
(Safari, Chrome, Firefox, Microsoft Edge, or Internet Explorer V11 recommended)
---
SPIE Student Chapter Update | Fall 2020
The SPIE Student Chapter has been proudly continuing to support student efforts and community engagement with optics. We are extremely grateful for engaging with Industrial Associates who have helped to support our chapter. We are already moving in the direction of stronger connection with industry. Industrial associates have been reaching out to ask how they can support us and we really appreciate that. Our members have benefited greatly from those connections. This is a chance for everyone to align on progress for the future of optics workforce and R&D.
Notably during the past few months, our outreach committee has created and published optics outreach videos on our Facebook page as a great alternative to in-person outreach activities. We continued talks throughout the Summer from our Industrial Associates as well as our annual Summer Student Colloquium Series, which received great turnout this year and high quality speakers. Talks followed with active participation from a broad audience, bridging the usual academic gaps.
We're very proud of our progress. Please check out our slides from the spring below to see a summary of our chapter and our work, as well as our needs to continue operation. With our collaborators, we are looking for financial support and interested in supporting new industry perspectives and engagement. We look forward to your ideas, so please don't hesitate to reach out!
Nick Kochan
President, UR SPIE Student Chapter
---
SPIE Student Chapter Update | Spring 2020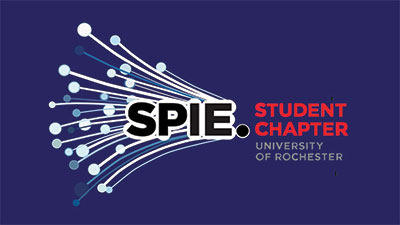 Amidst uncertain times, the SPIE Student Chapter is continuing its activities and support of the student body at the Institute of Optics. Currently we have planned virtual game nights and socials to replace our regular in-person events, and we are brainstorming online outreach activities to carry out in place of visiting schools. We are proud to still be bringing students together for social, outreach, and professional development activities.
We also realize that the most effective leaders are using this situation to re-evaluate their normal operations, and we are doing that as well. Moving forward, we want a stronger connection with industry. We believe that we can work with industry to create new activities in outreach and professional development, and this would be a great step in bringing our community closer together. You can see more about us from the video and the slides provided. We are looking forward to innovating on our activities, and we look forward to hearing from you!
On behalf of the executive board and student chapter at-large, thank you.
Nick Kochan
President, UR SPIE Student Chapter