Students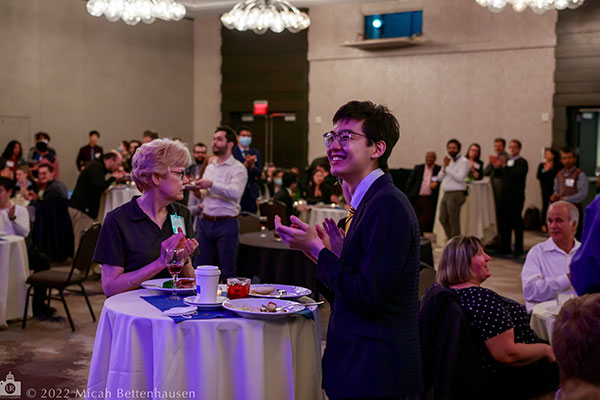 Photo by Micah Bettenhausen
The Industrial Associates (IA) program connects optics students with industry professionals, very often leading to job opportunities. Industrial Associates meetings are held in the fall and spring semesters. Each meeting features presentations by faculty and industry partners, a student poster session, and job interviews. The Friday evening reception provides a networking opportunity for members, students, and faculty in a relaxed environment. The Company Connection Showcase provides excellent face-to-face interaction for IA members with students.
 All Institute of Optics students are highly encouraged to attend Industrial Associates events. For years, optics students have enjoyed virtually 100 percent job placement rate upon graduation.
For more information see how to prepare for IA meetings, student resources, and frequently asked questions.
---
How to Prepare for IA Meetings
Attend a resume workshop hosted by the Institute of Optics or the Greene Center.
Create your resume using a template from the workshop and have it reviewed by Greene Center staff or a staff member of the Institute.
Submit your resume to Dustin Newman at dustin.newman@rochester.edu.
Develop your "elevator pitch." In other words, your 30 second speech on why a company should hire you.

What makes you unique?
What qualifications do you have?
What sets you apart?

RESEARCH, RESEARCH, RESEARCH! Look at our business partners and see which companies you find to be the most interesting. Look at what they do and what types of positions they have
Register to attend the IA meeting.
Wear business casual clothing to the IA meeting but have your best business attire set aside and where it to any interview you schedule.
DON'T BE SHY! These company representatives came to see you so make the uncomfortable step and go talk to the people that are in a position to hire you. Remember, they were once students themselves and know what it is like to be in your "shoes" and may be just as uncomfortable as you.
Don't be afraid to ask questions.
---
Student Resources
Industrial Associates Job Board—As a service to our Industrial Associate members, the Institute of Optics posts IA job openings for Institute students and alumni.
Greene Center for Career Education and Connections—Greene Center  provides a full range of services, programs, and resources to support you.
Alumni Network—Many Rochester graduates continue to be an active part of the University through the  University of Rochester Alumni Network. Our alumni attend University and department events, including our Industrial Associates Symposia, holiday party, and optics picnic.
---
Frequently Asked Questions
What events should I attend?
All of them will benefit you, our Company Connection Showcase, student research presentations, and evening reception are the most highly attended events. 
What companies will be there?
View a list of our current Industrial Associates.
Can you arrange the interviews for me?
Graduate students: contact Kai Davies kai.davies@rochester.edu
Undergraduate students: contact Dustin Newman dustin.newman@rochester.edu