News & Events
Installation of Dr. Agrawal as the inaugural Dr. James C. Wyant Professor in Optics
Monday, October 28, 2013
4 p.m.–5:30 p.m.
Hawkins Carlson Room, Rush Rhees Library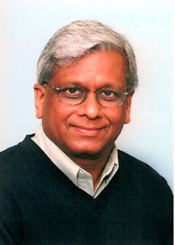 Dr. Govind Agrawal will be installed as the inaugural Dr. James C. Wyant Professor in Optics on Monday, October 28.
This is a tremendous honor and the Institute is deeply appreciative of Dr. Wyant's gift, establishing this professorship. We are equally delighted to bestow this honor on Dr. Govind Agrawal. There will be an installation ceremony acknowledging both Dr. James Wyant and Professor Govind Agrawal in the Hawkins Carlson Room of the Rush Rhees library at 4pm.
If you would like to attend the ceremony, please email
SpecialEvents@rochester.edu or call (585) 275-7393.