Overview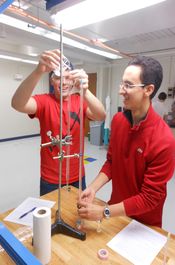 University of Rochester's CHE program is accredited by the Engineering Accreditation Commission of ABET, http://www.abet.org.
Our bachelor's degree in chemical engineering combines mathematics, chemistry, physics and biology with fundamental engineering analysis and design principles.
Chemical engineering graduates work in a wide range of careers. Some work as engineers in specialized fields like microelectronics, materials science, biotechnology and alternative energy. Others continue on to get advance degrees in law, medicine, business or engineering.
Chemical engineering students are in high demand in all of these areas and have the highest entry-level salaries of all major disciplines. 
Program Educational Objectives
Our educational mission is to provide students with the initial foundation knowledge and skills they will need to become, and remain, leaders in their professional careers. Specific program objectives are:
Be able to understand and apply math, science, computational, and engineering concepts that constitute the modern intellectual basis for the chemical engineering profession;
Be able to communicate effectively and work in multidisciplinary teams, taking on leadership roles in industry, academia, or government;
Be aware of environmental, safety, and societal issues facing science and technology and adhere to high ethical standards;
Engage actively in lifelong learning and professional development activities;
Achieve one of the following within six years of graduation:

Obtain an advanced degree in chemical engineering or in a related field including law, medicine or business
Advance professionally to leadership positions of greater technical or ethical responsibility
Engage in a problem of societal or global importance
Program Educational Objectives and Student Outcomes
We prepare students to make successful contributions in careers in a wide variety of professional arenas including industry, academia, government, medicine and law.
We will take advantage of the unique resources offered by the University of Rochester to promote the department's mission, including the development of good working relationships with faculty from across the University to facilitate the advising, training and general enrichment of our students' educational experience while at the University. 
The American Institute of Chemical Engineers
The American Institute of Chemical Engineers (AIChE) is a professional organization for chemical engineers. AIChE was established in 1908 to distinguish chemical engineers as a profession independent of chemists and mechanical engineers.
As of 2013, AIChE had over 45,000 members, including members from over 100 countries worldwide. Student chapters at various universities around the world have also been established throughout its history. The student chapters tend to focus on providing networking opportunities in both academia and in industry as well as increasing student involvement locally and nationally.
For more information visit the University of Rochester AIChE chapter website.
Enrollment and graduation information for out BS in Chemical Engineering program: http://www.hajim.rochester.edu/assets/pdf/hajim_ug_enr.pdf