Senior Design Projects
Chemical engineering seniors enroll in a laboratory course for their capstone design project. Over the progression of one semester, student teams identify, design and build a solution to real-world problems that integrate principles from the chemical engineering curriculum. Projects originate from local companies, the University of Rochester Medical Center, or our department, so that students experience authentic engineering challenges. These industry and academically sponsored projects provide students valuable experience in project management, teamwork and individual accountability, as well as research and development.
Past Projects
Characterization and Optimization of Spirits and Beverages Waste Streams
The wastewater stream produced by various products presents challenges due changing demands and presents significant financial cost. The excess biochemical oxygen demand and reaction kinetics were characterized, and the addition of Brewer's yeast was determined to reduce biochemical oxygen demand. Sponsored by LiDestri Food & Drink.
Project Photos

| | |
| --- | --- |
| | |
| | |
---
URMC Kidney Model Optimization Project
Development and optimization of polyvinyl alcohol-based polymers to mimic kidney tissue for medical residents to practice Percutaneous Nephrolihotomy surgery. Sponsored by Dr. Ahmed Ghazi, University of Rochester Medical Center Simulation Innovation Lab.
---
Accelerated Gasket Performance Characterization for India Mark II Hand-Pump Used in Uganda
Design of an accelerated testing system to evaluate the durability of the new gaskets while mimicking field conditions in Uganda to characterize gasket deterioration. This project was in collaboration with the Department of Mechanical Engineering and sponsored by Harbec and the Ugandan Water Project.
Project Photos

| | |
| --- | --- |
| | |
| | |
---
Characterization of Oxygen Mass Transfer in Viscous Fluids
The oxygen transfer rate (OTR) within inert fluids of various viscosities was characterized for the scale-up of bioreactors for organism proliferation. Sponsored by SPX Flow.
Project Photos

| | |
| --- | --- |
| | |
| | |
---
Complete Separation of PDMS and Heptane from a Waste Stream
A solvent evaporation process followed by supercritical carbon dioxide extraction was developed to separate high viscosity PDMS and heptane to high purity. Sponsored by Xerox Corporation.
Project Photo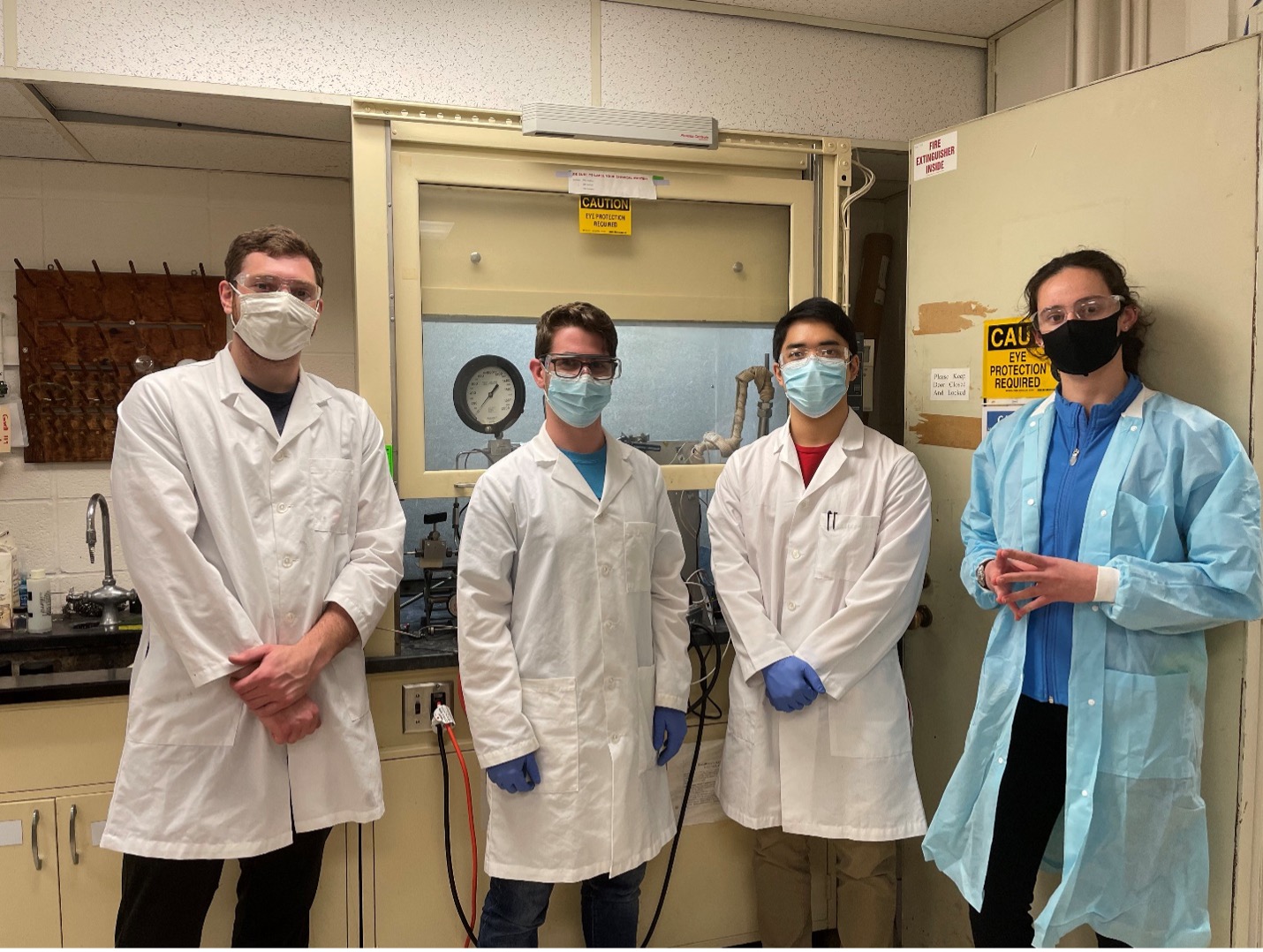 ---
Packed Bed Reactors for Academic Experimentation
This project aims to design and build a multi-channel reverse water gas shift reactor system that allows for exploration of heterogeneous catalysis. Sponsored by the Department of Chemical Engineering in collaboration with Prof. Marc Porosoff.
---
Purification of LUV Dye Using Column Chromatography
A lab-scale chromatography process was developed to purify crude 3-(dihexylamino)allylidene]malononitrile (LUV) dye used in the production of photographic film. Upon scaleup at Kodak, the chromatography process would be able to purify 2 kg per day. Sponsored by Eastman Kodak Company.
---
Separating PFAS from Landfill Wastewater
Development of two methods for the removal of per- and polyfluoroalkyl substances (PFAS) from landfill leachate using foam separation and activated carbon adsorption. Sponsored by Waste Management, Inc.
Project Photos

| | |
| --- | --- |
| | |
| | |